Celebrate the Lantern Festival
The annual Lantern Festival is accompanied by Ruixue as scheduled. The International Exchange School of Beijing Film Academy organizes international students living in the International Exchange College to taste glutinous rice balls to welcome the Lantern Festival.
Teachers from the International Students Office and apartment managers prepared delicious glutinous rice balls for the international students. Let everyone have a taste of Chinese after the Chinese New Year.
It is the first time many international students taste glutinous rice balls, food with strong festival characteristics, and are both excited and curious. International students from Japan and South Korea say that their hometown has similar customs. All the students were full of praise for the glutinous rice balls.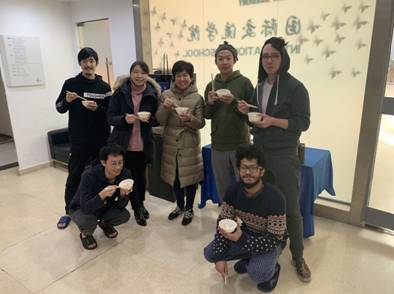 The dean of the School of International Exchange, Mr. Li Ran, told the international students that the Lantern Festival on the 15th of the first lunar month marks the end of the Chinese celebration of the Lunar New Year. Chinese people from all walks of life must return to their jobs to welcome the new year's work in the traditional sense. Ms. Mi Jing, the deputy dean of the School of International Exchange, wishes all international students a happy Lantern Festival, and in the new year, learning progress and dreams come true.