Making dumplings and celebrating the new year
January 28th, International Exchange College organizes "making dumplings and celebrating the new year" event for international students to welcome the new year.
Xiaonian is the 23rd day of the twelfth lunar month of the lunar calendar, which kicked off the Spring Festival in the north. It means that people are starting to prepare for the New Year's goods and prepare to pass a good year cleanly, expressing the good wishes of saying goodbye to the old and welcoming the new year and welcoming prosperity. Eating dumplings is also a traditional custom on this day.
The leaders of the School of International Exchange, Dean Li Ran, Li Jin, and Mi Jin, and teachers led the foreign students who stayed in Beijing for the New Year to make dumplings together to celebrate the Spring Festival. The activity was carried out in the department's new kitchen. To meet the student's self-cooking needs, our department and administrative office took advantage of the holiday time to finish the renovation work. The new kitchen is clean and tidy, with complete appliances. The teachers simply decorated it, and the red blessing character was festive and auspicious.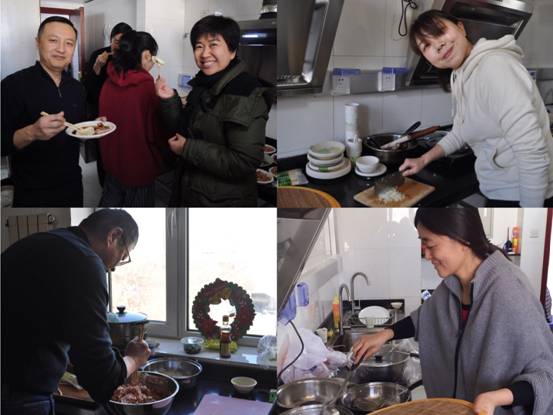 The international students came to the kitchen early to prepare ingredients together with the teachers, kneading dough, stuffing, rolling the skin, and making dumplings. The teachers explained the skills of making dumplings to the students while making them, and the kitchen was full of laughter. The students used their creativity and made dumplings of different shapes, some with lace, some like steamed buns, and some like mice. They are very cute.
Party Secretary Professor Hou Guangming, Vice President Professor Sun Lijun, and Deputy Secretary Teacher Zhang Jian also came here to spend a new year with the foreign students. They and the foreign students were skilled in making dumplings while having a cordial conversation. The kitchen is busy and lively, full of a festive atmosphere. Soon, the dumplings were wrapped and cooked, and everyone tasted the fruits of their labor together, and they felt very delicious. International students say: dumplings are so delicious, making dumplings is very interesting!
Although studying in a foreign country, I believe that this hot dumpling can make the overseas students feel the Chinese New Year's feelings and warm and hospitable character, and even feel the warmth of home. In this winter of the New Year, I hope to leave a good memory for the international students.