International students go to Henan for cultural study
From May 8th to May 11th, the International School of BFA organized international students and teachers to go to Luoyang City, Henan Province for cultural study. The focus of this visit is to experience the rich cultural characteristics of the Central Plains.
On the morning of the 8th, international students gathered at school and then took the high-speed train to the destination of Luoyang City, Henan Province. Luoyang is the ancient capital of the 13th Dynasties, it is a good place for international students to understand China's splendid ancient civilization. As soon as we arrived in Luoyang, we first visited the White Horse Temple. White Horse Temple once witnessed the introduction of Buddhism into China, and the introduction of Buddhism once influenced Chinese culture and belief.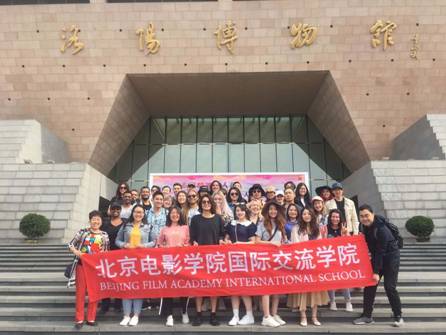 On the morning of the 9th, the students came to the Luoyang Museum. Here is a collection of historical relics unearthed in Luoyang. Among all the exhibits, the Shang Dynasty bronze wares greatly impressed the students, combined with both English and Chinese introduction, the students got a good knowledge of the historical stories behind these bronze wares. In the afternoon, the students came to visit the Longmen Grottoes in Luoyang. Longmen Grottoes is a treasure house of Chinese stone carving art and is now a world cultural heritage. The carving of Longmen Grottoes lasted for a long time and spanned multiple dynasties, which, with a large number of physical images and written materials, reflected the development and changes of many fields of ancient times, such as Chinese politics, economy and culture, etc. from various aspects, and made great contributions to the innovation and development of Chinese grotto art. Overseas students came to the most famous Fengxian Temple to appreciate the art of carving from ancient China.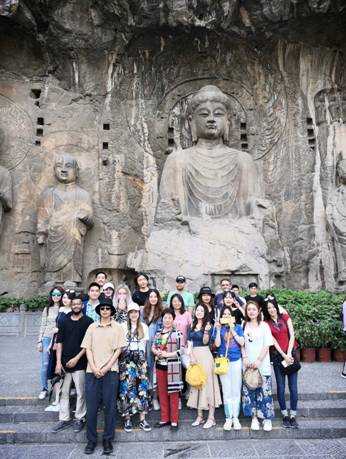 On the 10th, we were driven to the Shaolin Temple in Dengfeng City, Henan Province. The 1982 film Shaolin Temple and other films featuring Shaolin Kungfu contributed a lot to the development of Shaolin culture. Today, Shaolin Temple and Shaolin Kungfu is a kind of Chinese cultural symbol. Overseas students interested in Chinese Kung Fu have long wanted to come to Shaolin Temple to get to know it. We first watched the wonderful performances brought by the Shaolin Martial Arts Performance Group, and then came to Shaolin Temple and Pagoda Forest to learn about the history of this over-a-thousand-years temple.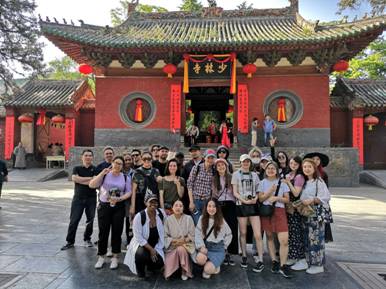 On the 11th, we took a high-speed train back to Beijing, and the cultural study ended successfully. Henan Province has always been considered to be a large agricultural province, and now with the Belt and Road Initiative enjoys more and more popular support, Henan is also actively building itself into a hub of connectivities. With the development of railways, highways, and aviation, Henan will also be provided with a precious opportunity for development. Henan in transformation is a reflection of China in transformation, to experience China, we are always on the way.