Beijing Institute of Technology
Chinese language program
As a key university in China, Beijing Institute of Technology (BIT) is located in the metropolitan city of Beijing which boasts of both a long history and modern features. As the birthplace of mandarin, Beijing is a marvelous place to learn Chinese, and BIT is an exceptional destination. Equipped with excellent teaching facilities and a beautiful school environment, BIT provides the perfect opportunity for international students to get in touch with the traditional culture and history of China and brings them nearer to places of interest and natural scenic beauty.
There are three levels (Basic, Intermediate, Senior) of courses with qualified class arrangements designed for all sorts of learners, including Chinese language students, preparatory undergraduates, and high-level degree students.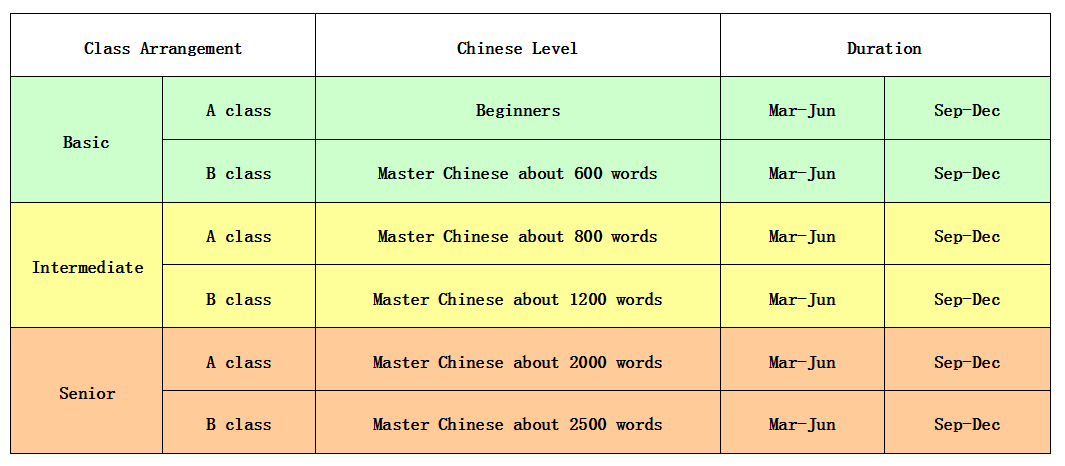 Class size is limited to 20 students. Courses are scientifically arranged, including not only compulsory courses of Comprehensive Chinese, Chinese listening, speaking, and reading, but also distinguished ones such as Words and Pronunciation Training, Chinese Culture, Chinese Idioms and Set Phrases, Overall of Modern China, Chinese Science and Technology, Newspaper and Periodical Reading, Advanced Writing and others. Furthermore, BIT invites many experts to give free lectures on HSK, Tai Chi, calligraphy, and culture. Through intensive instruction and repeated practice, students can improve their overall linguistic ability.
To enhance the effectiveness of classroom instruction, we also organize many interesting activities for the student to practice their Chinese language skills. Field trips may include visiting the Great Wall, Summer Palace, Xiangshan, Beijing Capital Museum, Yuyuantan Park, China National Museum, Beihai Park, 798 Beijing Art Zone, and other places of interest. Free lectures are given about calligraphy, Chinese traditional painting, paper cutting, photography, Chinese music appreciation, and Chinese classical movie appreciation. Culture and sports competitions may include badminton, volleyball, oral Chinese, singing, photography, writing, long-distance walking, and an international culture festival. Such events offer students chances to exhibit their current language ability. They also greatly arouse their enthusiasm to more fully learn the Chinese language and culture.
Students who finished planned courses with eligible academic records in BIT will be issued a Beijing Institute of Technology graduation certificate.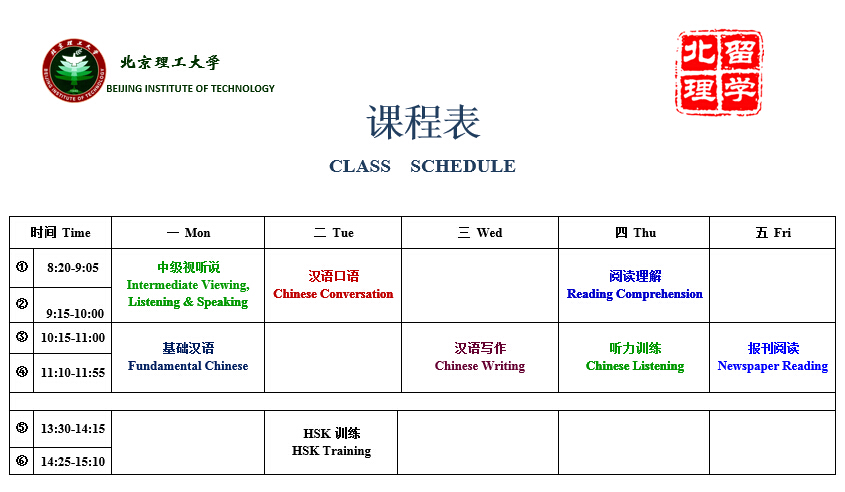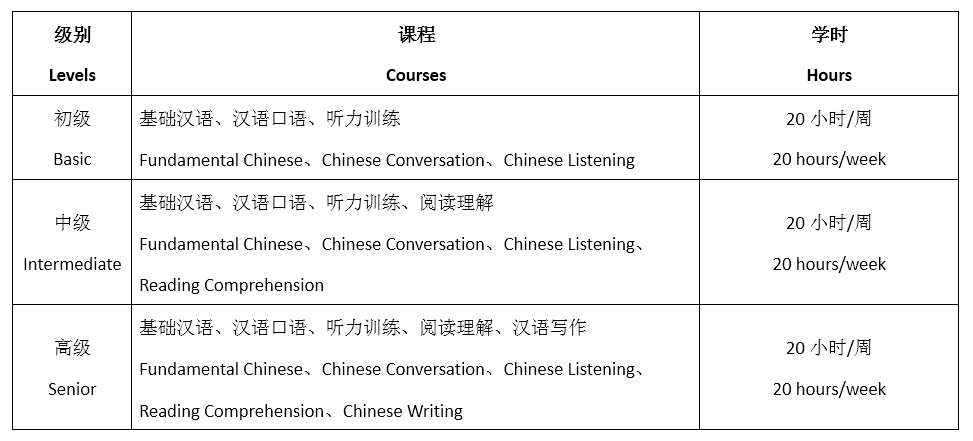 1. Applicant:
Applicant should be above 18 years old, having a high school or higher degree with a good health condition. They must abide by the laws of China and the regulations of schools.
2. Accommodation
http://isc.bit.edu.cn/campuslife/accommodation/113433.htm
3. Application Deadline
Spring semester: December 15.
Autumn semester: June 15.
4. Registration Day:
Spring semester: early March/year;
Fall semester: early September / year
5. Application Procedures and Required Materials
Step 1
Apply online: http://apply.isc.bit.edu.cn and submit materials below:
①The Photocopy of Passport (Page with photo and visa);
②The Certified/Notarized copy of Highest Academic Diploma;
③Proof of Language Proficiency:Chinese learning transcripts and certificates; HSK certificates, you may upload a piece of blank paper instead if you don't have one;
④Statement of purpose/Study plan:no less than 800 words
⑤For applicants under 18, please submit the following supporting documents:For Applicants under 18, please upload the documents required in http://isc.bit.edu.cn/docs/20191112073811708937.pdf
⑥Physical Examination Record for Foreigner:Please go to the hospital for a physical examination as required in http://isc.bit.edu.cn/docs/20171129065654650029.pdf and upload it in the attachment
⑦Financial Guarantee Letter:The certificate of bank saving in the name of the applicant or the parents, or the certificate of parents' salary shall be no less than 50000RMB
⑧Non-criminal Record:Issued by the local police station
⑨Other Documents
Step 2
Pay the registration fee online to take an interview
Step3
Pay one-semester tuition after passing the interview to get final admitted
Step 4
After being admitted, our school will mail the Visa Application for Study in China (JW202 Form) and the Admission Notice to the student. The student then goes to the Embassy or Consulate of the People's Republic of China with the Admission Notice, JW202 form, passport, and Physical Examination Report to apply for an X visa to study in China. If the duration is less than six months, there is no need to take a physical examination for an X2 visa.
6. Fees
Language student for 0.5 - 2 year:
Tuition:CNY 10000 /semester
Insurance:CNY 800 /year
Registration fee:CNY 500/person
7. Accommodation
Please visit at http://isc.bit.edu.cn/campuslife/accommodation/113433.htm
8. Contact
Ms.YAN
Tel: 0086-10-68912161
E-mail: studychinese@bit.edu.cn
Address: Room 108B, Office of International Students, Beijing Institute of Technology, No. 5, South Zhong Guan Cun Street, Haidian District, Beijing. 100081, P.R.China
Website : http://isc.bit.edu.cn
Fax:0086-10-68914846