Beijing Bailie University
In order to further improve students' language teaching skills and enhance students' appeal and expressiveness in telling stories for children, the Department of Bilingual Early Childhood Education held a unique "Children's Picture Book Story Contest" in the library lecture hall on the morning of May 14, 2021. finals. Gao Jie, secretary-general of the Children's Multilingual Education Research Center of the Academic Committee of the Chinese Academy of Management Sciences, Wang Ting, director of Zhihe Guoxue Bilingual Kindergarten, Liu Feiyi, director of Vite Kindergarten, and Wang Hong, director of Lantian International Kindergarten, served as judges. The 19th and 20th preschool education majors competed on the same stage. After fierce competition in the preliminary and semi-finals, 12 contestants finally advanced to the final.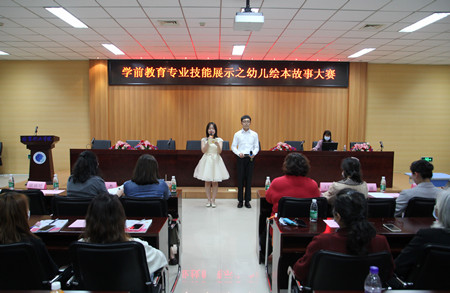 During the competition, the contestants showed off their talents and performed them with each other's voice. Different telling styles and different types of picture book stories bloomed in their beautiful stories!
Let us follow the lens and review the wonderful scenes!
Who is this? It turned out to be Feifei, who was angry because she snatched the gorilla toy from her sister! With fluent language and abundant emotions, Wu Yiping's classmate literally played Feifei alive, and her natural performance brought the audience into the picture book world at once.
As a little pig, "I" is always lucky, but today "I" went the wrong way and knocked on the door of Mr. Fox's house to see how "I" fights against Mr. Fox!
There is an excellent zookeeper in the animal town, Amo, who takes the earliest bus to the zoo to accompany his friends every day. But today, Amo's figure has not appeared. It turns out that Amo is sick. Let's visit Amo with the little animals!
The excitement is still on stage, "Reunion", "Guess how much I love you", "Story of the Story", "Grandpa Song and Dance", "Stone Soup"...Smooth storytelling, exaggerated performances, beautifully coordinated The costumes and props, the wonderful performances and innovative performance techniques of the contestants have brought too many surprises and touches to the audience.
Amid applause, the final of the "Children's Picture Book Story Contest" ended successfully, but the seeds of reading it sowed are taking root and continue to lead students to explore and discover in the world of picture books. As the judge Gao Jie said: "The wonderful performance of the students showed me the hope of preschool education!"