Beijing Bailie University
According to the school's party history study and education work arrangement, on the morning of May 14, the college party branch held a branch committee discussion meeting in the Wenhua Library on the third floor of the library. The party branch secretary Feng Xingpeng presided over the meeting.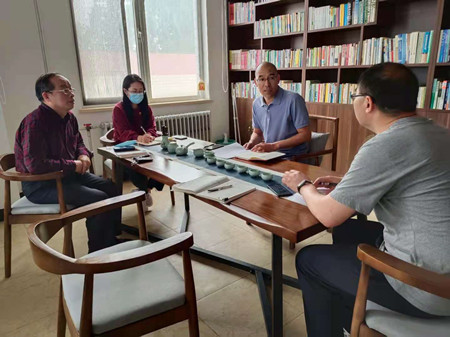 The meeting carefully studied the college's party committee's implementation plan for party history learning and education activities and the implementation plan for the 100th anniversary of the founding of the party, focusing on the central task of the college's reform and development, and studying and deploying the work of the party branch of the organization. Based on the actual situation of the party branch of the agency, the meeting put forward the goal of building a "model" team for the party branch of the agency to "learn from the history of the party" and build a "model" team. The "Regulations on Branch Work" effectively promotes the standardization and standardization of party branches, and comprehensively improves the organizational strength of party branches; second, it is necessary to strengthen political leadership, concentrate efforts, strengthen education and guidance for party members in the agency, and give full play to the vanguard and exemplary role of party members. Continuously strengthen the political function and cohesion of the party branch; the third is to promote two-way integration, truly become the "leader of the party member" and the "leader of the department", promote the close integration of the branch work with the work of morality, education and teaching, and focus on development , Do a good job in party building and promote development.