Dalian University of Foreign Languages
China-ASEAN Center Online Policy Seminar
On April 25th, the "2021 Online Policy Seminar on Chinese Universities' Admission of International Students from ASEAN Countries" organized by the China-ASEAN Center was held as scheduled. Our school was invited as one of the first 9 publicity colleges to cooperate with Beijing Foreign Studies University, East China Normal University and other universities also participated in this event.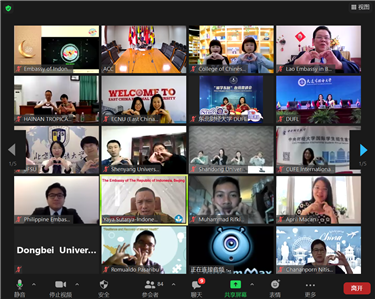 The presentation was hosted by He Wei, Education Officer of the Ministry of Education, Culture and Tourism of the China-ASEAN Center. Yaya Sutarya, Education Counselor of the Embassy of Indonesia in China, Phoxay Thepvilayvong, Education Counselor of the Embassy of Laos in China, and Allen Carillo, Third Secretary and Deputy Consul of the Philippine Embassy in China attended the meeting. The seminar attracted education leaders from Indonesia, Laos, the Philippines, Thailand, and students and parents from universities in ASEAN countries.
The three distinguished guests delivered speeches respectively, expressing their welcome to the students and parents who participated in the presentation activities and their gratitude to the universities. Subsequently, the universities gave lectures in turn. Chen Zijiao, Dean of the Han School of our school, Zhang Shuting, Deputy Dean, Xue Huiwen, Director of the Admissions Office, Lu Wenyue, a teacher of the School of English, and Wu Bingfa, a Thai student, introduced live broadcasts of our school's majors, enrollment categories and scholarships to ASEAN students and their parents. Projects and other enrollment policies and information, through graphic PPT and vivid and beautiful short videos, show the unique charm of Dawai and the development prospects of our school's overseas education in China. Student Wu Bingfa shared with everyone his many gains from studying abroad based on his own growth experience.
The preaching event provided the latest information about studying abroad for ASEAN students who wish to study in China. The participating ASEAN teachers and students actively left messages online, expressing their keen interest in our school. Teacher Hu Xinran from the International Exchange and Cooperation Office of the school responded to the questions of interest to the students one by one on the online platform.
With the help of the high-quality platform built by the China-ASEAN Center, this presentation not only further expanded our school's enrollment channels but also enhanced our school's reputation in ASEAN countries. The activity will attract more outstanding students to our school for further studies, which will help promote our school's international schooling and the school's "double first-class" construction. Our school will continue to improve the quality of schooling and build the "study abroad" brand to promote Chinese. The friendly relations among ASEAN countries have cultivated more outstanding talents to contribute.