Guangzhou University of Chinese Medicine
Overseas students give blessings in the Spring Festival
On the morning of February 3, on the square in front of the first dining hall of the University City campus, more than 30 overseas Chinese from Hong Kong, Macau, Taiwan and overseas students from the International College picked up brushes and waved "fortune" to all the students in the school. This "Reunion Cantonese Chinese Medicine, I love you during the New Year" activity was organized by the school's Youth League Committee. Students from Hong Kong, Macao and Taiwan, and overseas students actively participated and used their first Chinese learning practice in their lives to send New Year blessings to all the students of Guangzhou University of Chinese Medicine.
It is the first time for most overseas students to celebrate Chinese New Year in the Mainland, and it is also the first time to learn brush calligraphy. From being unfamiliar to proficient, from not daring to write to having fun, from writing only "Fu" to original couplets, in just one morning, the students broke through themselves, began to understand traditional art, and gained a deeper understanding of traditional culture. Level of cognition. At the same time, I also feel the school's care and concern for overseas students staying in the school, and I am more aware of the identity of Cantonese Chinese medicine practitioners.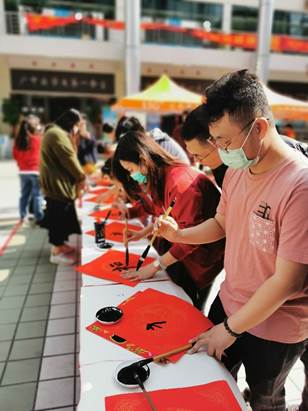 At the scene, the two brothers and sisters Lu Weiqiang and Lu Suyi, classmates of 2020 from Hong Kong, accepted interviews from mainstream media such as Nanfang Daily and Guangdong Radio and Television. They shared their feelings about studying in Guangzhou for a year in front of the camera and expressed their interest in the colorful holidays arranged by the school. Very satisfied with the activity. Many activities with traditional cultural elements have ignited their deep home and country feel.