Guangzhou University of Chinese Medicine
How to be an oncologist with "body temperature"
The 15th National Conference on New Advances in Comprehensive Cancer Therapy and the 3rd Annual Conference of the World Federation of China Association of Cancer Palliative Care Research Professional Committees will be held in Guangdong Building, Guangzhou from May 26th to 27th. The opening ceremony was held this morning. Famous tumor experts and representatives from more than 20 provinces and cities in China, Hong Kong, Macao and Taiwan, Australia, Singapore, Malaysia, and Thailand attended the meeting.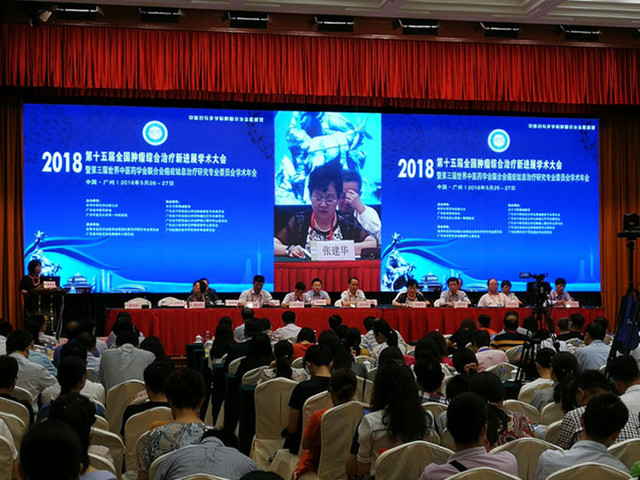 The meeting was chaired by Professor Lin Lizhu, the First Affiliated Doctor of Guangzhou University of Chinese Medicine, and invited famous Chinese and foreign experts such as Zhou Daihan, Professor Lin Hongsheng, and Wang Xiaomin to give lectures.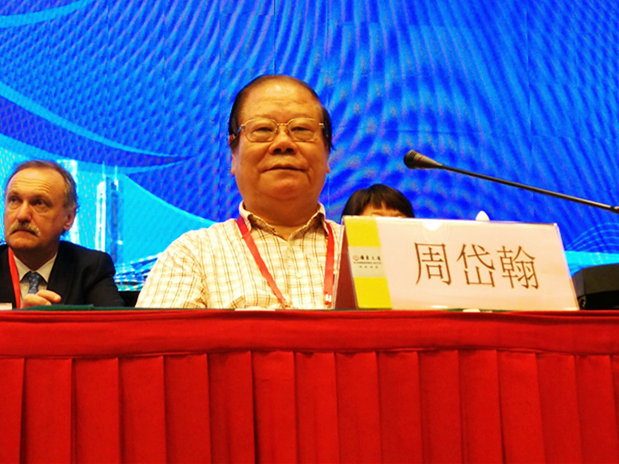 Zhou Daihan
What particularly caught the attention of reporters from the Yangcheng School was that, unlike previous reports on clinical tumor treatment with integrated Chinese and Western medicine, Professor Lin Lizhu, the chairman of the conference, a national model worker, and a representative of the 19th National Congress of the Communist Party of China, attended this academic exchange conference on new developments in the comprehensive treatment of tumors between China and foreign countries. Made a special report entitled "Construction and Implementation of Tumor Humanities Ward". It specifically describes how to be an oncologist with "temperature".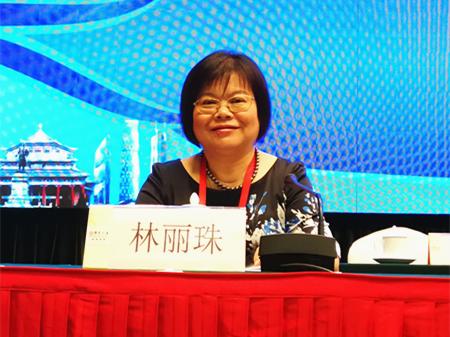 Professor Lin Lizhu, National Model Worker and Representative of the 19th National Congress of the Communist Party of China
Professor Lin Lizhu pointed out that in the face of the current increasingly severe doctor-patient relationship, facing tumor patients with more physical and mental pain than ordinary patients, how can one be a warm oncologist? Let the human sunshine into the ward, into the depths of the patient's soul? This is a question she often thinks about.
Since three years ago, the Cancer Center of the First Affiliated Hospital of Guangzhou University of Chinese Medicine where Lin Lizhu is located has allowed medical students and volunteers, and clinicians to conduct in-depth research on this subject through the concept of constructing a humanistic ward. A comprehensive understanding of cancer patients has opened up the hearts of patients and helped many desperate patients achieve "the same treatment of mind and body."
It is not surprising that patients give gifts to doctors, but it is not common for doctors to give small gifts to patients. But in the Cancer Center of the First Affiliated Hospital of Guangzhou University of Chinese Medicine, this is unusual.
The inpatients here receive small gifts made by volunteer doctors every holiday season, sometimes a heart-warming greeting card. "In traditional festivals, special greetings are given to patients, through a bouquet of flowers, a sentence of encouragement, and warmth to the patients, telling them that we are comrades-in-arms in the face of illness."
Lin Lizhu introduced that the specific method is through a variety of individualized activities, such as setting up a rehabilitation club, allowing patients to participate in special lectures, doctors and nurses answering questions for them in time, teaching patients to learn qigong exercises, Baduanjin, Tai Chi, and strengthening their bodies. Physical fitness, or organize occasional tea parties, reading, and recitations, and other social activities, so that patients can share their rehabilitation experience, enhance their confidence in fighting cancer, and achieve group anti-cancer.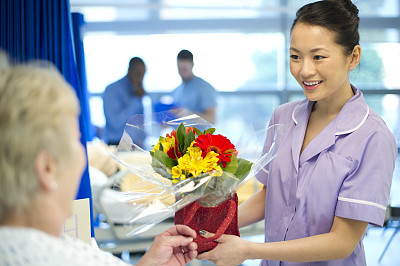 "The happiest and warmest hospitalization ever!"
Lin Lizhu emphasized that medical student volunteers are both volunteers and medical students. When they participate in the work of the humanities ward, they can not only experience the care for patients and gain a lot of things that they can't feel when visiting a doctor. They are accepting humanistic concepts. The irrigated edification of them will be of great benefit to them in the future to grow into warm clinicians.
A WeChat patient named "The Brightest Star in the Night Sky" wrote sincerely after hospitalization, "This admission is the happiest and warmest time because of you (volunteers). Thank you for playing with me." The picture I guess", even if I can't remember your names, I will surely remember the smile of each of you... Thank you for bringing me warmth when I was almost helpless, boring, boring, and irritable. Thank you You bring us joy at the Lantern Festival..." The patient's voice from the bottom of the heart, lets the doctor volunteers experience the silent dedication of the medical staff, the patient sees it in their eyes and remembers it, and builds a good doctor-patient relationship. It requires the efforts of both doctors and patients.
The famous "medical trouble" voluntarily asked to hug the doctor on the deathbed
The change of another patient, Xiao Hua (a pseudonym), made the medical staff even more emotional. Xiaohua discovered that cervical cancer was operated on in the hospital in 2011, but unfortunately, it recurred after 2 years. The family members smashed and made trouble in the gynecology department of the hospital. They broke the computer desk and chair. They were emotional and bad attitude. Later, they were transferred to the oncology department for treatment. Facing the well-known "medical trouble", Professor Lin Lizhu knew that "the same treatment of mind and body" could dissolve her frozen heart. Professor Lin not only led the team of medical staff to treat her carefully but also communicated with her repeatedly and watched the doctors and nurses. The staff went all out for themselves. A year and a half later, although the doctors regretted that they were incapable of returning to the world when Xiaohua was dying, she made a request that no medical staff had expected—she thought to Hug everyone who has taken care of her attentively to express their gratitude to the doctors and nurses for their treatment.
Professor Lin Lizhu said that medicine cannot solve all diseases. In the face of cancer patients, while oncologists master superb medical technology, they can only keep in mind Dr. Trudeau's epitaph and treat patients "sometimes to cure, often to help.", Always go to comfort", don't forget to care for the patient, and you can be a warm doctor who makes the patient feel warm.