Huazhong Agricultural University
Teachers and students celebrate the new year together
As Spring Festival arrives, the stay-put students have concerned millions of families. This year, there are in total 1575 students staying at HZAU for the holiday, including 690 doctoral students, 865 postgraduates, and 20 undergraduates. Some stayed for research commitments, and the others were unable to return home due to the epidemic. Given the situation, HZAU staff offered them special "one-to-one" care and organized a series of New Year activities such as putting up Spring Festival couplets, making dumplings, etc, to ensure that all students can enjoy the festival on campus.
During the winter vacation, the campus was placed under "closed management", but some public places remained open like the gym, library, cafeterias, and others. Spring couplets were posted on the dormitory doors of stay-put students. "Every time I return to the dormitory and lay my eyes on the couplets, red and bright, I get immersed in the festivity of Chinese New Year, even though I am thousands of miles away from my home," said Shen Yaning from the College of Plant Sciences & Technology, whose hometown Shijiazhuang was being hit by Covid-19.
Also, New Year Goods (special purchases for the Spring Festival) were given to these students. Early in the morning on Feb. 5th, Zhang Qianwen, a postgraduate from the College of Horticulture & Forestry Sciences received the gift bag which contained fruits, candy, masks, and so on.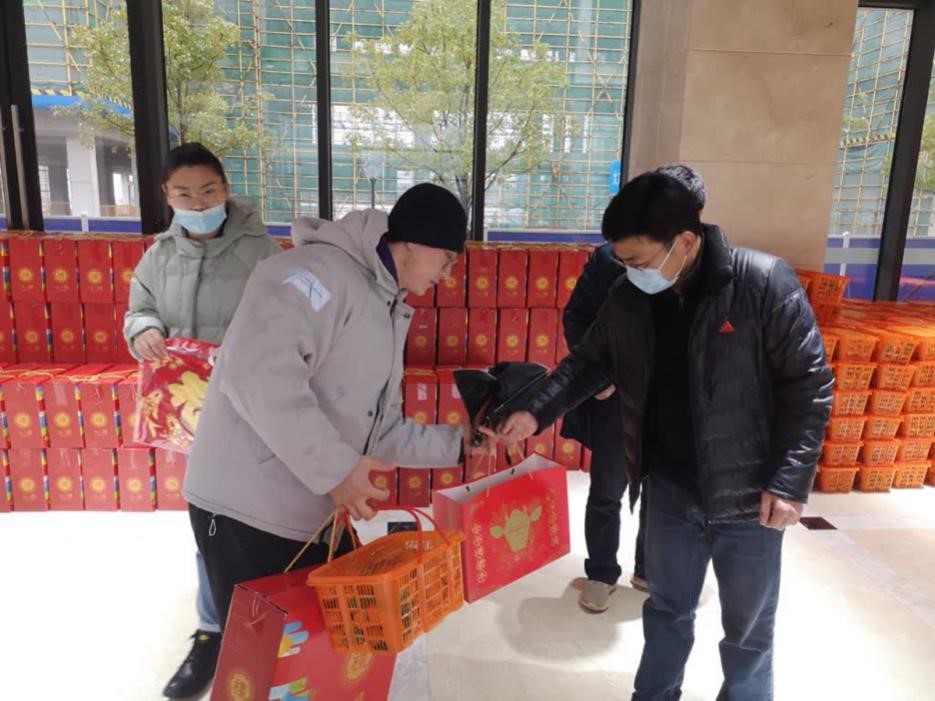 Gift bags are given to HZAU stay-put students
With all the necessities being provided, students were able to focus on their research. At the State Key Laboratory of Crop Genetic Improvement, they occupied themselves in the laboratory from early morning to late at night as usual. Ye Yage, a graduate student majoring in bioengineering, was busy preparing the experiment for their graduation thesis under the guidance of her supervisor, Professor Yin Ping.
There also were students who took advantage of the winter holiday to learn more. Adili Alimu from Turpan, Xinjiang who could not return home because of the epidemic prevention and control in his hometown, worked out a review plan for National Civil Servant Examination with his counselor Wang Wentao who kept daily communication with him.
The extracurricular activities greatly enriched the lives of these stay-put students. A badminton friendly match was held between students and teachers by the College of Life Sciences & Technology; New Year movies were accessible for the students from the College of Sciences. On the afternoon of February 8, the College of Food Sciences & Technology held a New Year "tea party" for students and teachers to make dumplings and have New Year's Eve dinner together.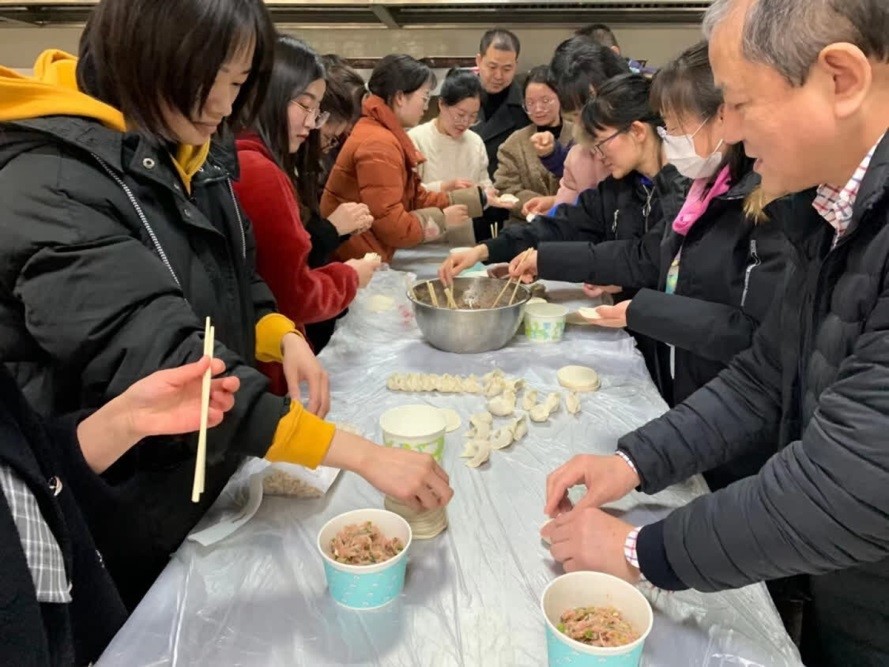 Stay-put teachers and students make dumplings together
Learning of HZAU's actions, the parents of Zhang Chupei from Hebei Province sent a thank-you letter, which read as follows, "Unable to look after our son due to self-quarantine, we are worried about him being out there all alone. After knowing what you've done for him and other stay-put students, we feel much relieved."
More HZAU's New Year activities are coming soon. Some small-scale recreational activities such as the New Year's hike, blind box exchanges will be held during the winter break for the faculty and students to celebrate the Spring Festival together in great joy.