Minzu University of China
Su Yingxia gives academic lectures
On April 21, 2021, from 7:00 to 9:00 pm, Professor Su Yingxia from Beijing Language and Culture University was invited by the School of International Education to give an academic lecture entitled "Case Analysis of Errors in Chinese Vocabulary Teaching and Practicing" in the lecture hall on the first floor of Wenhua Building.
This lecture was hosted by Associate Professor Chang Jiang Aoshuang, Associate School of International Education College.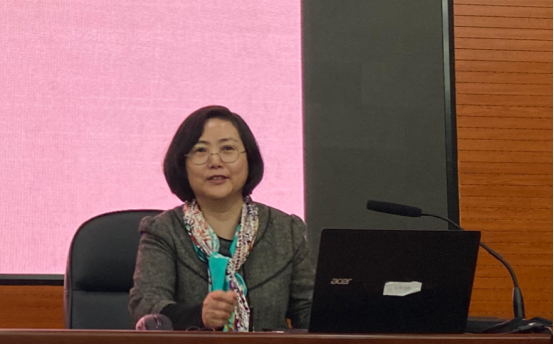 Su Yingxia is a professor at Beijing Language and Culture University, deputy director of the Faculty of Chinese International Education, Beijing Language and Culture University, and dean of the School of Chinese Language and Culture.
He used to be a visiting associate professor at Tokyo University of Foreign Studies and the Chinese Dean of the Confucius Institute at Keimyung University in South Korea.
In 2012, he was awarded the title of the first teaching teacher of Beijing Language and Culture University. Chinese teacher training expert has been to South Korea, Japan, Italy, Denmark, France, Portugal, and other countries for Chinese teacher training, the China Chinese Education Foundation "perfect remote training for Chinese teachers" charity project invited experts.
The research direction is the teaching of foreign Chinese vocabulary, grammar, and textbook compilation. Published many papers in academic journals such as "Language Studies", "Chinese Learning", and "International Chinese Teaching Research"; published many Chinese textbooks at home and abroad.
The first author of the "Eleventh Five-Year Plan" national planning textbook for general higher education "Introduction to Spoken Chinese" (Part I and II).
National Chinese Language Teaching and Research Base of Beijing Language and Culture University Key Project Achievements Series-"International Chinese Teaching Grammar Teaching Methods and Techniques", "International Chinese Teaching Vocabulary Teaching Methods and Techniques", "International Chinese Teaching Chinese Characters Teaching Methods and Techniques".
Chief Editor, Confucius Institute/China Editor-in-chief of the Hanban planning textbook "YCT Standard Course".
In this lecture, Professor Su mainly focused on the two core issues of "what to teach" and "how to teach" Chinese as a second language vocabulary teaching, starting from the two links of "speaking" and "practice", and combined with a representative in the case of mistakes in vocabulary teaching in class,.
It shares several problems that should be paid attention to in vocabulary teaching and the essentials of vocabulary teaching and practice.
Professor Su pointed out that the core part of second language classroom teaching is "speaking" and "practice".
Among them, "speaking" bears the task of conveying language knowledge to learners and performing language demonstrations, and aims to provide knowledge reserves and examples for imitation of learners' target language output.
The purpose of "practice" is to promote effective language output, through practice to enable learners to transform the knowledge they have learned into language ability.
If the teacher makes mistakes in the "speaking" link, it may cause the students to understand difficulties or misunderstandings, and thus it is difficult to achieve effective language output.
Therefore, as a teacher, when preparing lessons, you need to accurately grasp the meaning and usage of each word, make predictions about words that are complicated in meaning or usage, easy to be confused or easy to use incorrectly, and make teaching plans.
After the lecture, Professor Su also patiently and meticulously answered the questions of the students present on related questions, which broadened the students' thinking about the choice of vocabulary teaching methods in the future.