South China Normal University
Spring scenery
"Spring, the sweet spring, is the year's pleasant king." The poem Spring written by Thomas Nashe praises the vitality and joy that spring brings to the Earth.
As the weather becomes warmer and plants start growing again, picturesque scenery comes into our view everywhere at SCNU. Every corner on the campus constitutes SCNU's own impression of Spring.
The red kapok branch bursts vitally with blooms, embellishing SCNU's school crest with freshness. Kapok usually blooms from March to April, blooming first and then growing leaves.
The two kapok trees, along with dazzling pink bougainvillea, are almost as tall as the six-story Teaching Building No. 1 on the Shipai campus, welcoming students with an eye-catching view.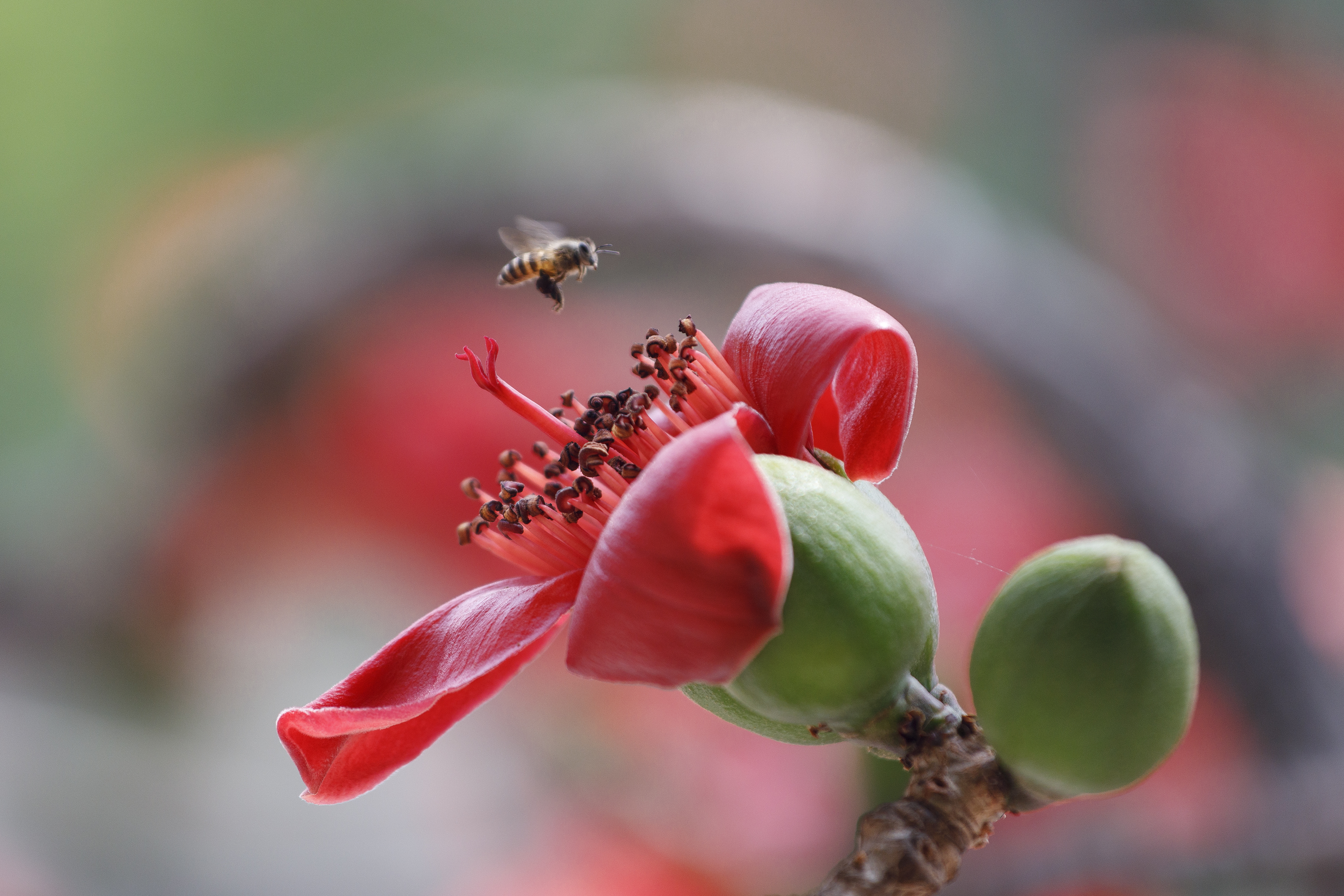 Bee is collecting nectar from bright red kapok, revealing the vitality of spring. As the city flower of Guangzhou, kapok symbolizes the city's vigor, and thus inspires students' ambitions to serve the motherland.
Cherry blossoms have become another corner of the unique landscape of SCNU since being planted in May 2017. Strolling between the Library and Teaching Building No. 1 on the Shipai campus, people are easily attracted by those tender pink blossoms.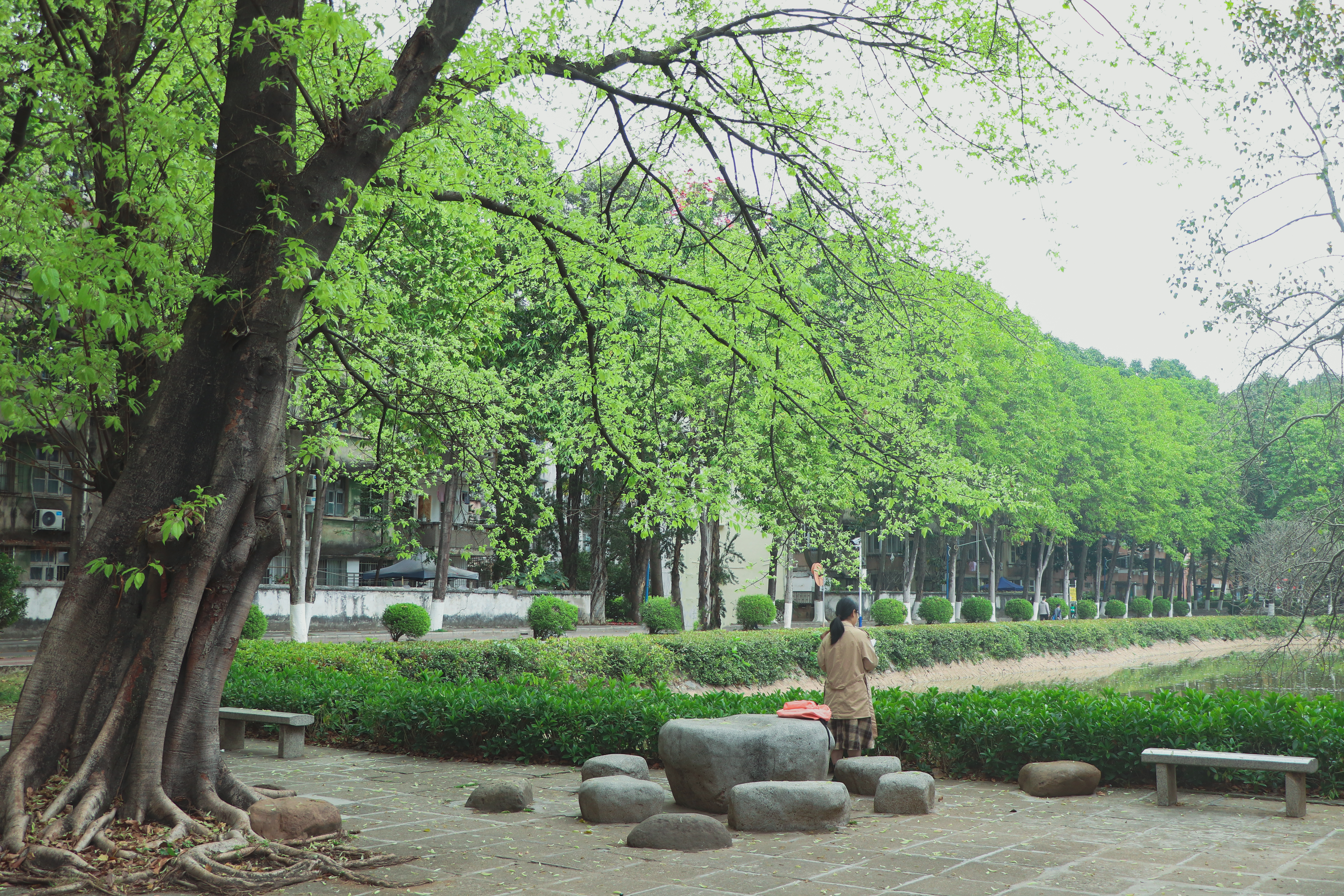 Trees alongside the lake on the Shipai campus are sprouting in vivid light green, gently swaying in the breeze. Teachers, students, and retired employees often take a stroll by the lakeside.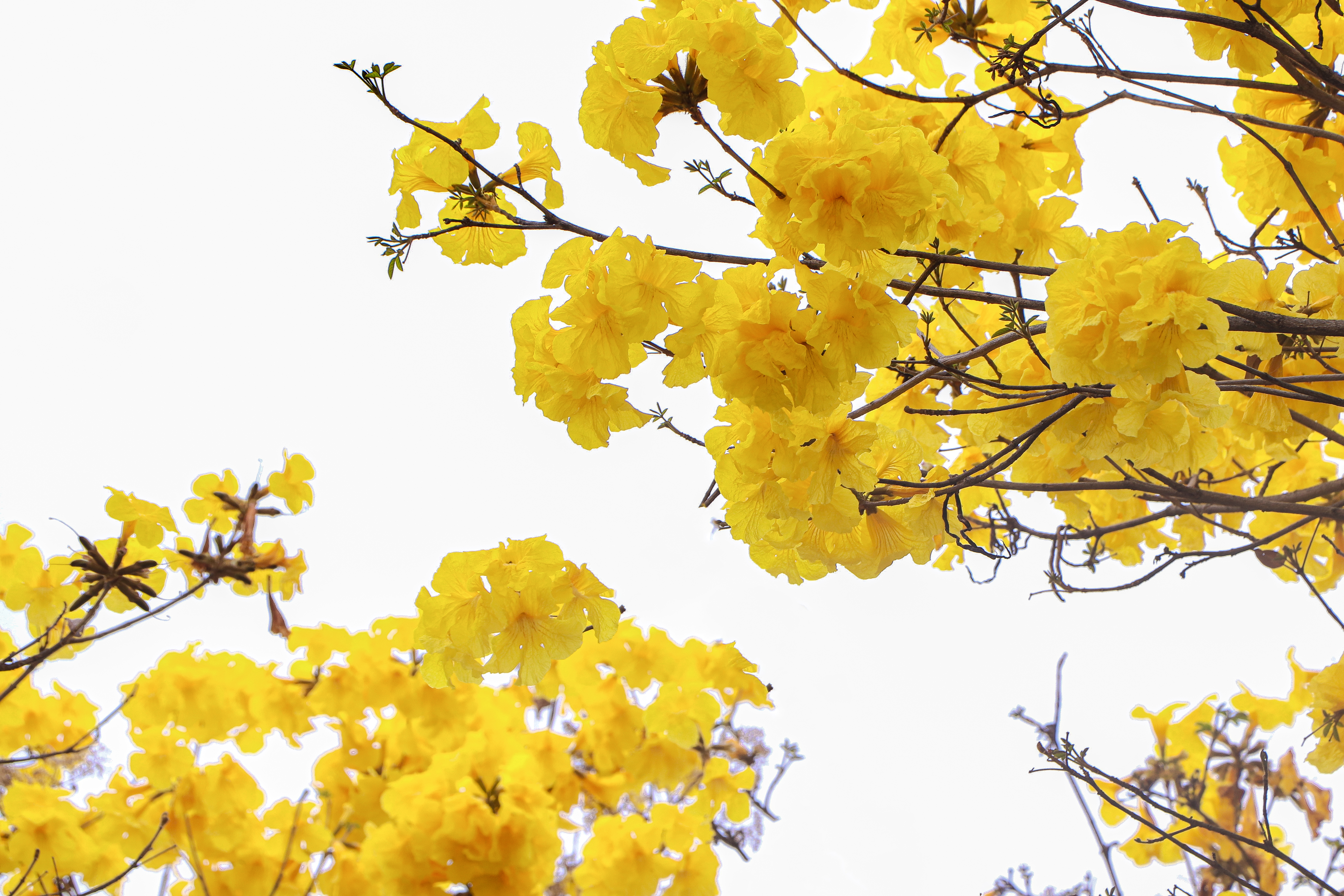 Like bells waving in the breeze, the bright yellow Golden Trumpet tree (Handroanthus chrysanthus) lights up the corner of the Affiliated Primary School on the Shipai campus. The bell-shaped flowers are clustered, indicating the arrival of spring.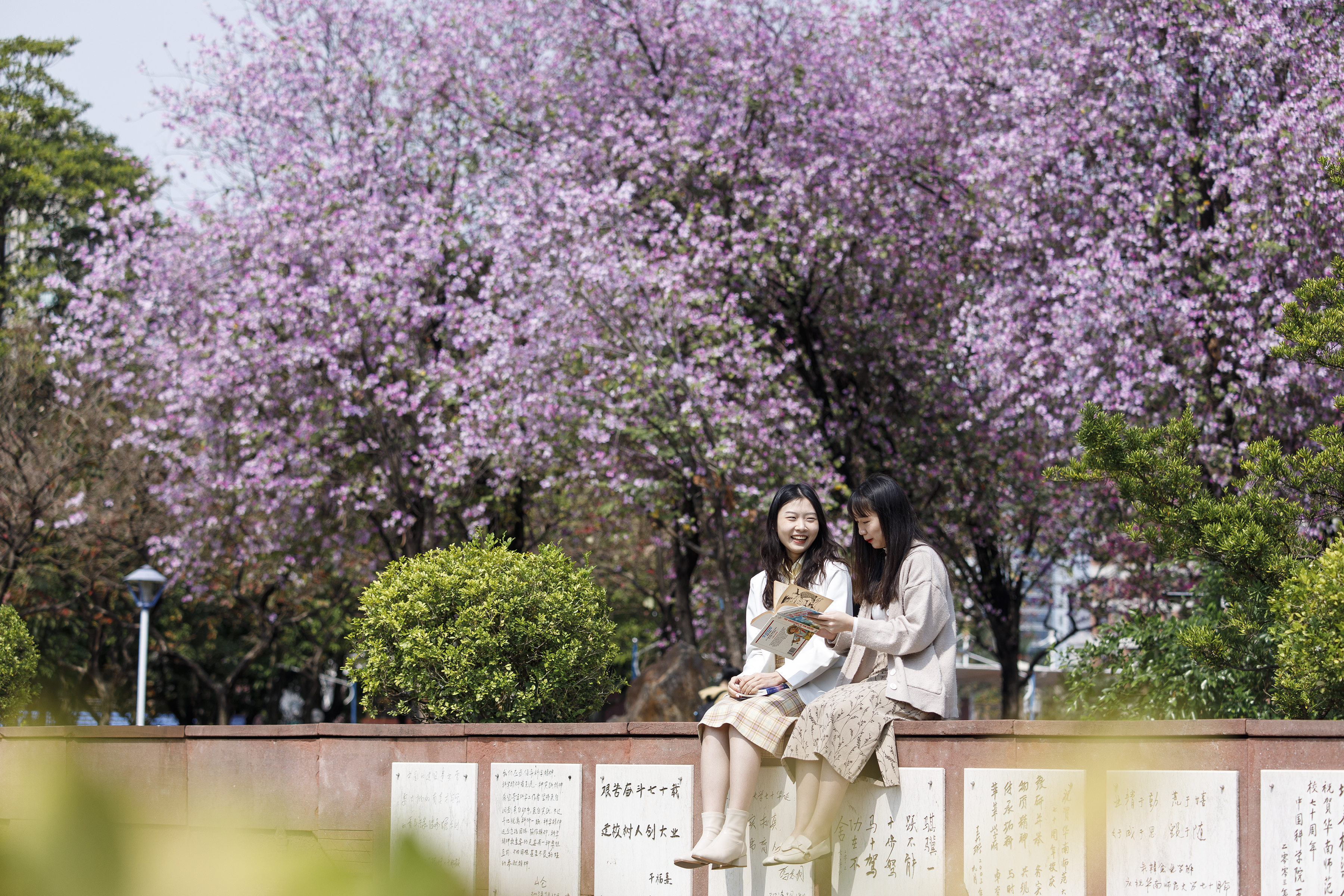 Accompanied by pink curtain-like Bauhinia, students are chatting happily in the mild sunshine at the Public Square, a great place for learning and gathering.
The Bauhinia bloom brilliantly next to the statue of Confucius and two of his disciples. The flowers come from charity tree planting activities during the 2018 school celebration.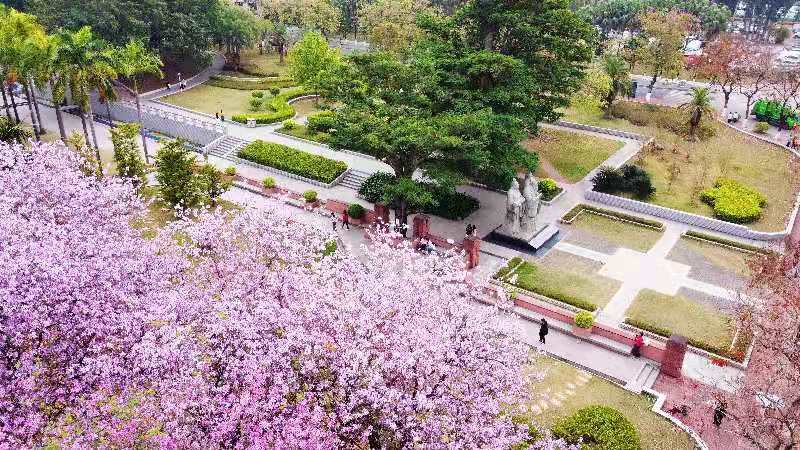 From an aerial view, SCNU is bathed in dreamy pink Bauhinia flowers, heralding the arrival of spring. Pink Bauhinia flowers usually blossom in early spring, lasting till around April.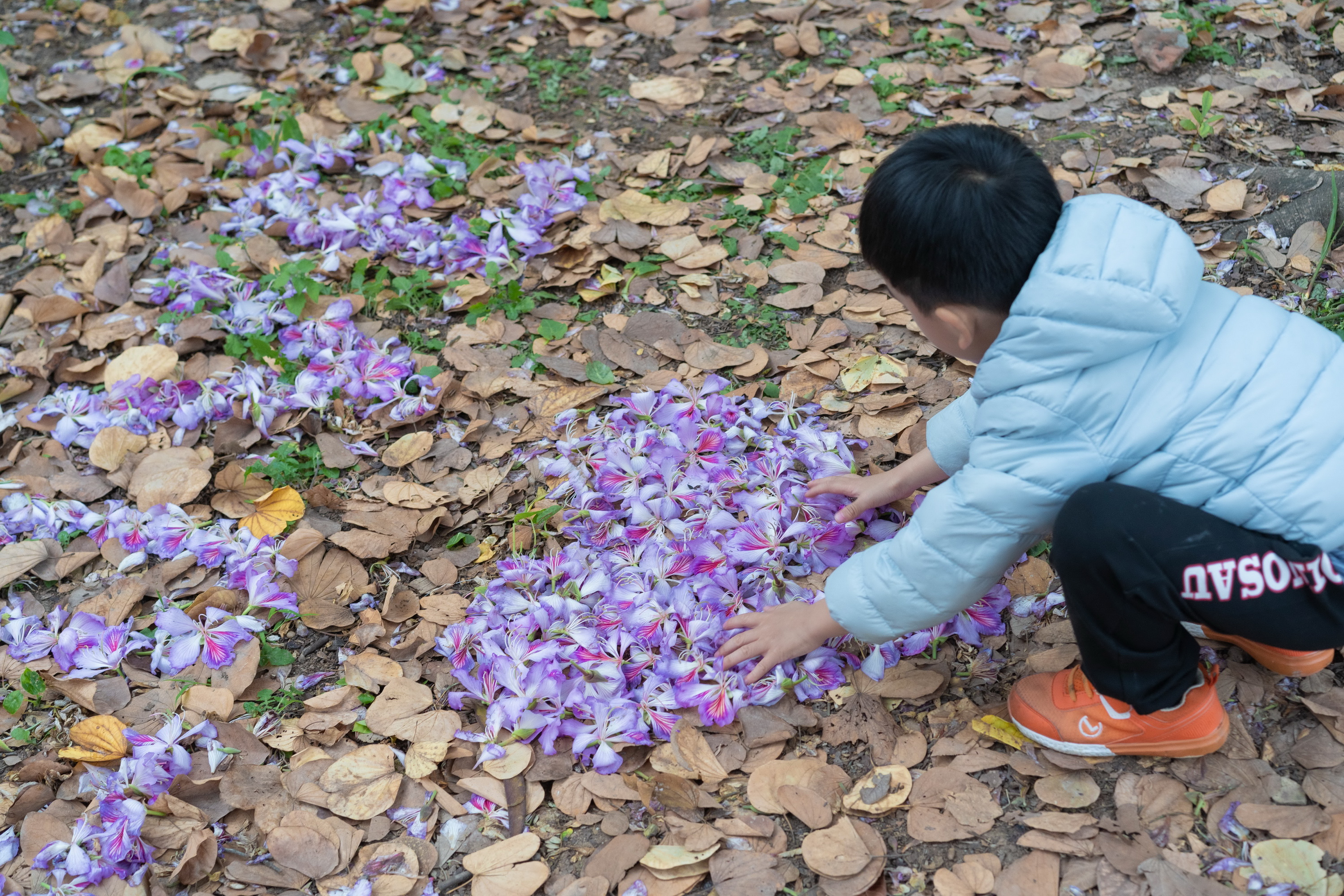 A little boy is playing with the fallen purple-pink Bauhinia flowers in a heart shape. Many families have outings and admire the spring landscape at SCNU.
Have you been attracted by the iridescent scenery at SCNU? March is the most prosperous as you can see colorful spring scenery. It attracts a lot of teachers and students to mark wonderful memories. Come and snap some unique shots with something memorable at SCNU.