Shandong Normal University
Hold academic lectures
On the afternoon of April 22, Professor Guo Xi, a doctoral supervisor of Jinan University and director of the Overseas Chinese Studies Center of the National Language Commission, was invited to give an academic lecture entitled "Accurate Service in International Chinese Education" for our school. The lecture was held in the 3155 lecture hall of the Qianfoshan campus. Held. Some business teachers of the college and students majoring in Chinese International Education participated in this lecture. The lecture was hosted by Professor Shi Jie.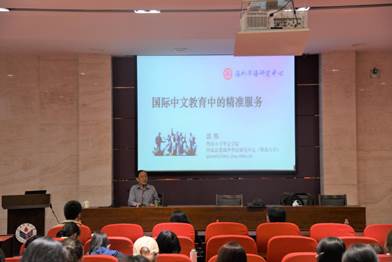 Professor Guo Xi gave a wonderful academic report to the students from three aspects: the concept evolution of international Chinese education, the three types, and the realization of precise services.
At the beginning of the lecture, Professor Guo explained in detail the concept of international Chinese education that is constantly evolving and listed the three major divisions of Chinese teaching: national language teaching, Chinese teaching, and Chinese teaching. Professor Guo made a specific distinction between them in terms of nature, environment, goals, and teaching objects. At the same time, he explained to us the concepts of overseas Chinese, Chinese and non-Chinese foreigners and the differences in their respective concepts.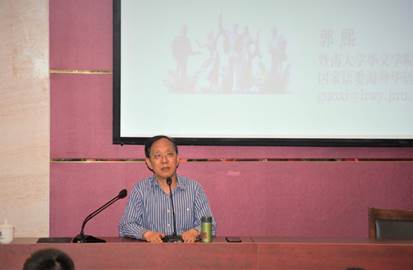 Professor Guo pointed out that there are three main types of international Chinese education: domestic "teaching Chinese as a foreign language", overseas "international Chinese teaching", and overseas "Chinese education". Among them, the domestic "Teaching Chinese as a foreign language" is a systematic second language teaching in a target language environment, and the target is mostly adults; the "International Chinese Teaching" abroad is a non-target language environment, diversified Chinese as a foreign language. Teaching; overseas "Chinese education" mainly targets Chinese children of middle school and preschool age in Chinese society.
When talking about overseas "Chinese education", Professor Guo focused on the inheritance of the ancestral language of overseas Chinese. Overseas Chinese generally exists as an ancestral language. Inheritance is different from China's mother tongue education in many aspects, and it is also different from general Chinese as a second language teaching. At the same time, Professor Guo introduced Chinese society and its contributions and cited some examples of the status quo of overseas Chinese education.
Later, Professor Guo explained how to achieve precise services from the two aspects of existing conditions, conditions that need to be improved and created. Professor Guo pointed out that international Chinese education must be organized, and at the same time, we need to improve and create conditions, including various information, data, and resources for service needs. Professor Guo also analyzed the main difficulties encountered in online teaching based on the situation of online teaching in the epidemic and proposed that teaching should start from learners and let students use middle schools. It also lists the content that needs to be perfected in the teaching materials, dictionary dictionaries, pinyin newspapers, games, etc. of international Chinese education.
Finally, Professor Guo said that international Chinese education has entered a new stage of development, requiring us to look at Chinese education with a sense of service. What we need to train our "teachers", talents who serve international Chinese education. It is necessary to scientifically understand the nature and characteristics of Chinese teaching, and on this basis, provide accurate services for learning objects to maximize the benefits of teaching and learning. This is also an important task for international Chinese educators in the future.
In the interactive questioning session, everyone actively asked questions, and Professor Guo gave a serious and comprehensive answer to everyone's questions, and the teachers and students of the school expressed their benefits.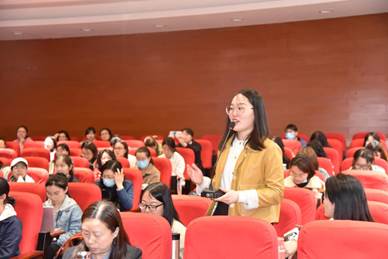 Professor Guo shared this lecture with us as a researcher, educator, and traveler. He has a broad vision and rich teaching content, which provides us with a feast of knowledge. This lecture provided a platform for teachers and students of our school to communicate with well-known scholars and played an important role in promoting the development of international Chinese education, improving the quality of teaching in our school, stimulating students' interest in learning, and enhancing professional identity.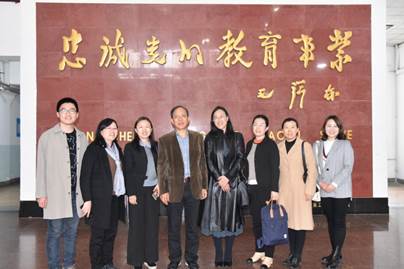 Guo Xi: Professor and doctoral supervisor of Jinan University, Director of the Overseas Chinese Studies Center of the National Language Commission (Jinan University). Member of the Chinese Education Expert Committee of the Overseas Chinese Affairs Office of the State Council, an evaluation expert of the National Social Science Fund, a director of the Chinese Linguistics Society, the vice-chairman of the Language Policy and Planning Professional Committee of the Chinese Linguistic Society, and a director of the Chinese Sociolinguistic Society.