University of Science and Technology of China
Two international students won "Outstanding International Students"
2021-03-30
After several rounds of expert review, the
Ministry of Education
recently announced the list of the 2020 "Chinese Government Scholarship for Outstanding International Students in China". The 2017 PhD student Rafay Ahmed (Ruo Fuyi) in the School of Earth and Space Sciences and Purushothaman Vithiyapathy (Li Zheng), a 2017 PhD student in the School of Humanities and Social Sciences, received this honor.
"Outstanding Chinese Government Students in China" is an annual selection of outstanding international students conducted by the Ministry of Education for full-time students of Chinese government scholarship institutions. It aims to reward and commend foreign students who are excellent in character and academics and who are knowledgeable and friendly in China. Each university recommends candidates, and the Ministry of Education organizes experts to comprehensively review the candidates' academic performance, scientific research capabilities, and activity performance, and finally determine the list.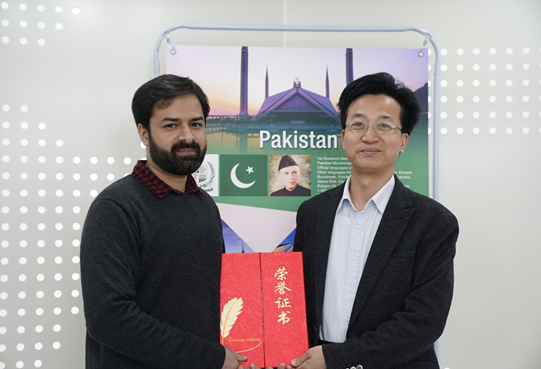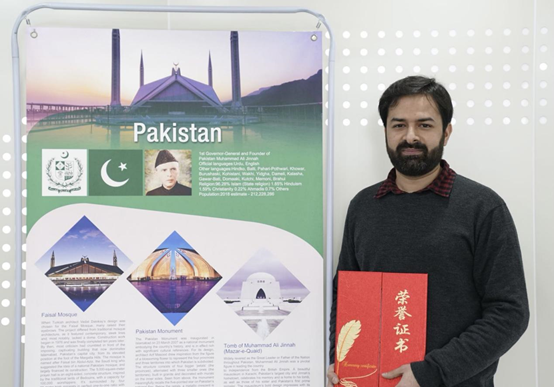 "My name is Rafay Ahmed, and I am from Pakistan. Currently, I am working as a PhD student at the Department of Environmental Science and Engineering, School of Earth and Space Sciences under the supervision of Prof. Guijian Liu. My PhD research work is carbon-based microporous material for CO2 capture'. During my studies, I faced several challenges, but with the guidance of my supervisor and the support of lab fellows, I solved all of them and realized that these challenges were to strengthen me. I have published more than 15 research/review papers as a first and co-author in well-reputed journals with high impact. I believe that hard work' can never be substituted. It is a matter of great honor for me to win the 'Outstanding International Student Scholarship'. It happened due to the consistent inspiration of my supervisor, my family and all my lab-mates. USTC recommended me to be evaluated by the Ministry of Education and I feel very lucky to be selected for this award. I am very thankful to the leadership, administration and volunteer students of International College USTC, who supported me in all this journey and especially facilitated me during my challenging time of pandemic while I was staying in China. I will always be thankful to USTC because it changed my life for the better."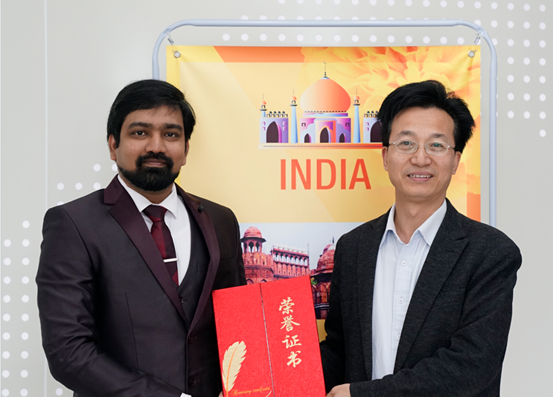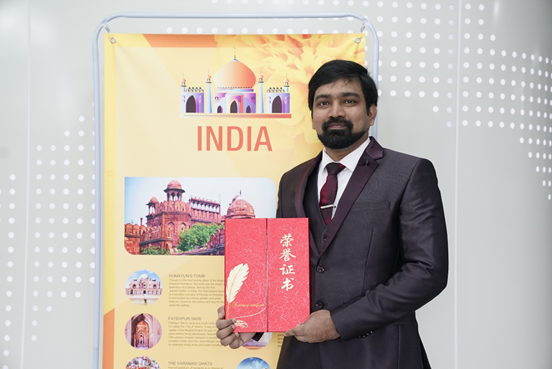 "I am Vithiyapathy Purushothaman from India, a Doctoral Candidate in School of Humanities and Social Sciences, whose supervisor is Professor Song Wei. First of all, I want to give my very special thanks to the International College of USTC for nominating me as one of the outstanding international students. My enormous salutes go to each and every nominee of this year who had made outstanding contributions to the scientific and cultural communities. It's a great honor and pleasure to receive this prestigious' Outstanding International Student Scholarship' from the Ministry of Education. Winning this award would not have been possible without the encouragement and guidance of my honorable supervisor Prof. Song Wei. I joined USTC in 2017 by gaining a Chinese Government Scholarship through the nomination of the Ministry of Human Resources and Development of India. My journey at USTC began when I got opportunities to learn the Chinese language and culture in the first year of my Ph.D. Learning Chinese has broadened my perspective of China's economic, political and social structure. International College of USTC has provided various opportunities to understand and learn Chinese culture and tradition which is unique and a bundle of packages to humanity. During my studies, I have published my papers in leading journals and participated in various national and international conferences held in universities across China. This award is a motivation to work hard and strive in a research career. Being at USTC is a great opportunity for any student for their academic excellence and understanding traditional Chinese culture as well as for advanced academic interactions and research."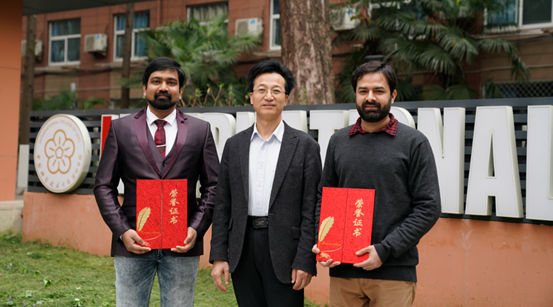 Our school has always attached great importance to the education and training of international students, devoted itself to fostering talents, persistently researching and innovating, taking multiple measures to improve the quality of teaching and training of international students, and cultivating high-level scientific research and innovative talents who are knowledgeable, friendly, and Aihua. Our school will continue to play the exemplary role of the "Chinese Government Scholarship for Outstanding International Students in China" to encourage more international students to pursue academic excellence, achieve personal development, and cultivate more high-level international talents for the world.