Youth training camp for international organizations
Wuhan University News Network From December 5th to 6th, Wuhan University's "Global Governance and Sustainable Development" International Organization Talent Training Camp was held, with 122 people from 24 colleges (departments) and training units Students in the school participate in training. Qu Wenqian, deputy secretary of the school party committee, attended the opening ceremony.
Qu Wenqian pointed out that the school actively serves the national development strategy, takes the training and transfer of talents from international organizations as a special work priority, and continuously expands the "water storage of international organizations' talent training through a series of policy guarantees, funding support, platform construction, and resource convergence. We hope that students will cherish the opportunity, study hard, practice courageously, and strive to become top-notch innovative talents with international competitiveness, become "indomitable" Wu University students, make a Chinese voice on the world stage, and contribute to the strength of Wu University. The school will also further innovate mechanisms, actively explore new models, and actively explore new channels to become the "hardcore" support for students to work in international organizations for internships.
Ruan Jianping, an expert representative and deputy dean of the School of Politics and Public Administration said that my country's participation in global governance is to meet the needs of globalization and national development. Faced with the current twists and turns of "anti-globalization", training and transporting more talents for international organizations is An important way to effectively safeguard my country's overseas interests and cope with common challenges has also provided students with more job opportunities, allowing the minded and sentimental Wu University students to realize their personal and social values on the international stage.
Student representative and Hony Academy's 2018 undergraduate student Tang Aoyang said that it is his ideal and goal to take an internship in an international organization. Thanks to the platform and opportunities provided by the school, he has accumulated a certain amount of knowledge and practical experience in international organizations, which will continue in the future. Learn, continuously improve, and strive to become a new era Chinese international organization talent with international vision, foreign language ability, and cross-cultural communication skills.
The two-day training camp includes 4 global governance theme reports, 1 international organization internship thematic exchange, and 1 UN-related topic debate. The theory and practice are combined, and both knowledge and application are combined. In the group debate session, the students expressed their opinions, and the views of the two sides collided fiercely. Taking into account the classroom participation, debate performance, and other aspects, 12 students including Zou Dongni of the Law School finally won the title of "Excellent Camper" in this training camp.
Experts invited to participate in this training camp include Xue Yuxue, former head of the UNDP National Bureau in Afghanistan and Indonesia, Ruan Jianping, professor and deputy dean of the Department of International Relations, School of Political Science and Public Administration, Wuhan University, and the UNDP Asia-Pacific Youth Project -Savinda Ranathunga, Project Leader of Youth Co: Lab, Catrine Schulte-Helen, Senior Officer of Reproductive Health and AIDS Program of UNHCR, Liang Wei, Digital Agriculture, and Agricultural Industry Expert of Information Services Department of UN Food and Agriculture Organization, etc.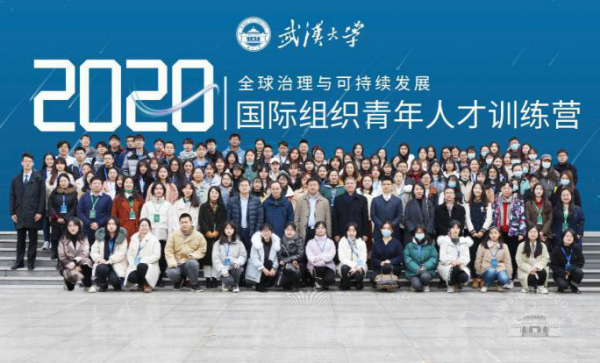 It is reported that this training camp was jointly organized by the Student Employment Guidance and Service Center and the International Exchange Department, and was supported by the School of Politics and Public Administration. The training camp aims to further broaden the international vision of the students, improve their ability to perform their duties in international organizations, and guide and encourage more students from Wu University to take internships in international organizations.
At the end of the two-day training camp, the students expressed a lot of gains
Liao Zhuoting, a 2020 postgraduate student with a master's degree in economics, School of Economics and Management: The two-day training camp allowed me to gain an introductory understanding from ignorance of relevant UN organizations in the past. Especially on the second day of the debate competition, I got an exercise in expression and logical thinking.
Su Huiyu, a 2019 master's degree student in Environmental Science, School of Resources and Environmental Sciences: I am very happy to have the opportunity to participate in such a feast of knowledge training for international organizations, and to meet many small partners who have the same vision. We communicate with each other, share, encourage each other, and work together. Listen to the sharing of experts, seniors, senior brothers, and sisters, discuss freely together, think and summarize together, and plant a seed for internship and employment in international organizations.
Le Bingxin, a 2019 master's degree in Chinese and foreign political systems from the School of Politics and Public Administration: Participating in this event gave me a better understanding of how to apply for an internship in an international organization. What impressed me most was the sharing by Mr. Ruan Jianping, who shared his insights on globalization from a global perspective. The overall organization of the event is also very thorough, and the staff is very attentive and responsible.
Xu Yanchun, an undergraduate student majoring in the ideological and political education of the Marxist College of 2018: I was deeply touched by the professionalism of the guests of the training camp and the meticulousness and caringness of the organizers. Two days are not long, but the harvest is full, and many questions that have puzzled me for a long time have also been answered.
Liu Shiqi, a 2020 undergraduate student majoring in financial engineering from the School of Economics and Management: What impressed me the most during the event was a picture shared by Senior Sister Liang Wei eating chocolate for the first time, although my friends and I have never faced the predicament of hunger and cold. But the world's poverty has obviously not been eliminated. This picture made me begin to reflect on the value of my existence. If I have the opportunity, I also hope to become a member of the United Nations and contribute my own strength to this world.